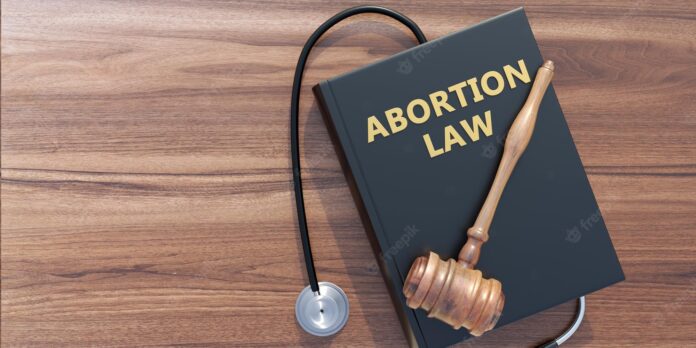 This article is written by Michael Shriney from the Sathyabama Institute of Science and Technology. The article explains Texas Abortion laws, including when these laws came into effect, provisions of the law and whether or not, abortion is prohibited under the law. It also covers minors having abortions, as well as its requirements for doing so and concludes with some important FAQs regarding the topic.
Introduction
Abortion laws in Texas are so strict that if a woman wants to abort, she must leave the state and abort beyond the US-Mexico border or operate outside the law. Someone who aids or abets an abortion after cardiac activity is detected, which is usually around six weeks, is subject to a $10,000 fine per occurrence under current Texas abortion law. Anyone with the ability to bring that civil action poses a problem for physicians and other providers.
Texas abortion laws are stricter to a point when, for example, a person uses medication to induce abortion, like pills, outside the state. According to Senate Bill 8, Texas may allow this scenario. But one thing is complicated in this scenario: when that person's self-administered medication for abortion fails, the woman ends up in a difficult situation. If they visit a clinic in Texas after six weeks of pregnancy for a complete abortion, the abortion provider will be unable to perform the process in accordance with the conditions of the Texas abortion law. At this moment, women must go through the process with a very high-risk pregnancy since there are no other alternative options in Texas.
The Roe v. Wade case (1957), in which the U.S Supreme Court declared abortion to be authorised by regulations and statutory tactics, legalised Texas abortion law in 1973. In addition, there were other restrictions in the country during an abortion, such as obligatory ultrasound imaging and parental approval for children. Women who want to get an abortion should go to the doctor for four visits and get an ultrasound.
In 2021, Texas allowed abortion up to six weeks of pregnancy. The state has made abortion law more restricted in the country, which results in the procedures of abortion being prohibited during a time when many women are unaware of their pregnancy, i.e. 6 weeks which is one and a half months. However, this will change in the future, resulting in the complete prohibition of abortion in Texas as soon as the Supreme Court approves it.
If any individual, including friends, family, strangers or neighbours in Texas, discovers or suspects:
Any woman who aborts, or
Any abortion provider, or
Any person who aided or abetted an abortion after six weeks.
They can file a lawsuit against them and receive damages starting at $10,000 if they are successful. It is a private party that is enforcing the prohibition under Section 171.209 of the Texas Heartbeat Bill.
When did Texas abortion law came into effect
Governor Greg Abbott signed Senate Bill 8, which came into force on September 8, 2021. This law states that after 6 weeks of pregnancy or gestation, women are not allowed to abort. According to Texas Abortion Law, women can abort their pregnancy up to six weeks after gestation, even if rape or incest has occurred. The American Civil Liberties Union of Texas (ACLU) and its partners are seeking a legal challenge to this unconstitutional law in Texas courts. Abortions are more restricted in Texas, where the number of abortions has dropped by more than 50% in two months after the law came into force.
There are two specific statutes, one of which is now in effect. The Texas Heartbeat Act of 2021 is the first statute. The Act bans almost all abortions once a fetal heartbeat is found, which occurs at around 6 weeks of pregnancy, and is enforced by a private civil remedy. The Human Life Protection Act of 2021, the second abortion law, would only effect if the Supreme Court overrules Roe v. Wade in whole or in part. This law would ban all abortions unless the pregnancy places the mother's life in danger or provides a severe danger of significantly affecting a major bodily function.
History of restrictive abortion laws in Texas
In American history, the legal position of abortion has undergone various major changes. Beginning in the middle of the nineteenth century, the procedure was rendered illegal in the majority of states. Several organisations were established in the late 1960s to mobilise opinion in favour of and against the legalisation of abortion. States started to relax their stringent anti-abortion laws in the 1960s, and by the time the supreme court legalised abortion nationwide, it was already lawful in 17 states in a variety of situations other than those that required saving a woman's life.
Since the Roe v. Wade decision in 1973, Texas statutes have always indicated that only doctors or permitted abortion clinics are authorised to conduct abortions to keep patients safe. The third-trimester abortion is restricted to rare and serious medical conditions. However, throughout the last two decades, anti-abortion politicians have attempted to prevent individuals from aborting by imposing unnecessary restrictions:
2003: The "Women's Right to Know Act" was established in Texas. The law describes about doctors who provide patients with misleading information regarding the abortion procedure and to provide alternatives to end the pregnancy. The law then requires patients to wait 24 hours before having an abortion. The law also specifies that all abortions at 16 weeks or later be performed in an ambulatory surgical center, which is a mini-hospital. When the law came into effect in 2004, there were 54 non-hospital abortion providers that benefited from the requirement of an ambulatory surgical center.
2005: Texas prohibited abortions beyond 24 weeks and also needed parental approval for minors under the age of 18.
2011: A mandatory ultrasound law was adopted in Texas, allowing a person who wants to abort to get a sonogram at least 24 hours before the abortion treatment. Doctors must also show the ultrasound, make the foetal heartbeat audible, and convey a verbal explanation of the scan's report.
2013: Texas enacted House Bill 2, sometimes known as the omnibus abortion bill, which imposes plenty of limitations on abortion, including requiring:

Doctors are required to have admitting procedures at a hospital within 30 miles of the abortion facility.
Abortion is requested to be prohibited beyond 10 weeks post-fertilisation unless a woman is at risk of death or the baby has severe medical issues.
Doctors who perform medication abortions must follow a state-mandated protocol.
All abortion clinics must meet the criteria of ambulatory surgical centers, i.e. mini hospitals. Even if a facility performs abortion by giving tablets to swallow, these facilities must be furnished.
Two aspects of the law were challenged in the Supreme Court by reproductive rights advocates, who claimed that the law had nothing to do with health and safety. In 2016, the Supreme Court agreed, and the admission procedures and ambulatory surgical centres were rejected. Other laws are still in effect.

2015: Texas has raised the standard of proof for minors seeking judicial bypass and reduced the options for minors seeking judicial bypass in a country other than their native country.
2016: The Texas Department of State Health Services (DSHS) asks clinics to pay a fee to bury or cremate the tissue left behind during abortions. The law was challenged by reproductive rights advocates as irrelevant to the patient's health and safety, and the court agreed, preventing the law from coming into effect.
2017: Texas has banned performing second-trimester abortions using the safest and most frequent method, compelling doctors to either use new treatments or stop doing them completely. The law was challenged by reproductive rights advocates as an unfair burden on the right to abortion, and the court agreed, preventing the law from coming into force.
Texas has also banned insurers to include abortion coverage in a comprehensive health insurance plan, allowing patients to acquire separate abortion coverage.
2019: House Bill 16 was passed in Texas, making it ban abortion providers that fail to give medical treatment to a fetus delivered after an abortion. Because abortions are prohibited after 20 weeks and a baby is not born until 24 weeks, this is a circumstance that is almost unlikely in Texas. There hasn't been a single report of this incidence since Texas started collecting statistics on the procedures in 2013.
Senate Bill 22 passed the Texas legislature, banning government involvement with abortion providers or their affiliates. The bill prohibits government entities from forming partnerships with abortion providers or providing any help to clinics linked with them, even if they do not perform abortions by themselves.
2021: Senate Bill 8 was enacted by the Texas legislature, banning abortions after six weeks into a pregnancy, when many women are unaware they are pregnant. This law essentially bans abortion and puts an unlawful prohibition on it throughout the state. This historic law allowed private citizens to sue to 'enforce' the unlawful abortion ban. This would empower anybody, including a relative, an abusive partner, or even a stranger, to file a lawsuit against the health care provider and get a court order preventing the provider from conducting any abortions beyond six weeks of pregnancy. Any person who successfully sues an abortion provider will get damages of at least $10,000 under the law.
Provisions of Texas abortion law
Does Texas abortion laws mean a complete ban on abortion
There is no complete prohibition on abortion in Texas, but abortion can be said to be partially banned. An abortion must be performed within six weeks and not later than six weeks. Texas passed Senate Bill 8 on September 1, 2021. This bill specifically prohibits abortion after six weeks, which is strictly prohibited without any exceptions. Once an unborn child's heartbeat is discovered, abortion becomes prohibited in Texas. Abortion is banned even after rape or if the person isn't aware of her pregnancy after or beyond six weeks. It is only aborted in serious cases when the mother or the child's life is in danger.
Texas has banned abortion after 6 weeks of pregnancy, even in cases such as when a person uses abortion pills to abort a baby and does this act in another state. If the medication fails to abort, the person will not be able to have a complete abortion in Texas. Abortion after this scenario is banned in Texas and abortion providers are restricted from performing abortions. If anyone notices a woman having an abortion after six weeks, the person can be anyone around the woman, such as family, friends, neighbours, or strangers. That person can file a lawsuit against the aborted woman or the abortion provider. If the case succeeds, the person gets a minimum of $10,000 for the damages and also the costs incurred by the attorney, which are received from the people who were sued. This would help Texas to reduce the number of abortions in the state.
The primary motive of these Texas abortion laws is to save the lives of unborn fetuses. In Texas, the cost of an abortion ranges from $450 to $3,000 depending on how advanced the pregnancy is. For low-income women who are already suffering from rent charges, transportation, utilities and childcare costs, having more children is already a problem. The amount depends on the pregnancy and status of the woman.
Minors getting an abortion : what are the requisites
The requirement for the minor to get an abortion:
Texas law requires minors who wish to abort to get parental approval. If her parents agree to and choose to abort the fetus, abortion is permitted for minors.
Unmarried minors must get written consent from their parents to undergo an abortion.
The Texas Parental Notification Law applies to young adults under the age of 18 who have decided to undergo an abortion. The law also requires the minor's doctor to notify the minor's parents, guardian, or conservator within 48 hours of the minor's decision to abort.
The following are the exceptions without getting the minor's parental consent:
A minor under the age of 18 can obtain an abortion without the consent of their parents or legal guardians by filing a judicial bypass application. A judicial bypass is a judge's approval allowing a minor to get an abortion without the consent of their parents or guardians. The procedure is completely secret.
If the judge determines that the minor is mature enough to make her own decisions or that informing her parents is not in their best interests or might lead to abuse, they will issue a court order that can be taken to the doctor. There are lawyers that can assist in obtaining a judicial bypass.
If a minor pregnant patient is in a medical emergency and needs to abort the foetus, parental approval is not necessary.
Recent development of Roe v. Wade
Roe v. Wade, the landmark case that established the constitutional right to abortion, was overturned by the supreme court in a 5-4 majority. Since 1973, the case has allowed for abortions in the first two trimesters of pregnancy in the US. The court overturned this case accordingly with the moral and social implications of the abortion debate being enormous. In the majority opinion, Justice Samuel Alito in particular stated that the decision in Roe was not adequately supported by history or precedent and that abortion is a political issue that should be decided by the public and its elected representatives. The justice stated that the constitution is neutral toward everyone and that the court must uphold this impartiality.
The landmark case in the 1973 decision of Roe v. Wade, which established abortion as a constitutional right, was overturned by the US Supreme Court on Friday, June 24, 2022, by a 6-3 majority. In the Dobbs v. Jackson Women's Health Organization decision, the court ruled that there is no constitutional right to an abortion. 26 states are anticipated to comply with this requirement as soon as possible. The majority of the South and the Midwest will be exempt from this ban on abortion. In these states, women and other individuals who are capable of becoming pregnant must travel hundreds of miles to an abortion facility or perform abortions on themselves at home using medicine or other methods. The majority of states will experience this soon. A reverse of Roe v. Wade has resulted in abortion restrictions in thirteen states, however, the statutes' implementation dates vary.
Conclusion
Under Texas law, a woman has just two weeks to recognise her condition and confirm the pregnancy with a test before deciding whether or not to abort the pregnancy. Many women may not keep good track of their periods due to unpredictable cycles, or they may not know the exact day when their previous period began. The legislation is so strict that there are no exceptions for rape or incest. It prohibits abortions for medical grounds. Abortion is legal only if the mother or child is in danger of dying for up to six weeks and not after that.
A minor who wants to abort must have parental approval. Under specific exceptions related to parental permission, a minor can abort the foetus. In cases of a medical emergency or when the court grants judicial bypass, a minor may abort without parental consent. The judge may decide if the minor girl is independent and capable of managing the situation, in which case the court does not notify the parents and issues a judicial bypass. These Texas laws, as mentioned, may change in the future. Many US women are in danger of having illegal abortions outside of institutional care due to regulations banning abortion. However, poor women, particularly in many republican states, may find it difficult to travel to other states for in-clinic abortions. The decision will enable states to impose greater restrictions and is anticipated to result in abortion restrictions in around half of the states.
Frequently Asked Questions (FAQs)
Is abortion legal in Texas?
Yes, the citizens have a constitutionally protected freedom to choose whether to have or not to have children, including the right to abort the pregnancy. While Texas cannot officially prohibit abortion, it can impose some limits. Abortion restrictions in Texas often make them more complicated or costly.
Is it illegal for the woman in Texas or anyone helping her to get an abortion after six weeks in another state or country?
No, lawsuits against people who have had abortions are not permitted under Senate Bill 8. It is impossible to ensure that those attempting to enforce SB 8 would not file a lawsuit against Texans who refer to offering help to patients seeking abortion treatment outside the state. However, this bill does not apply to abortions performed outside the state. As a result, helping someone seek abortion treatment outside of Texas is not deemed criminal or a violation of SB 8.
How many visits does a woman have to make to an abortion provider?
According to Texas law, the person must see the abortion provider for at least two visits to a doctor's office or clinic. The state also compels her to have a sonogram and get details of the report about medical risks, adoption options, and fetal development stages. Before getting an abortion, the individual must wait 24 hours after receiving the sonogram and other abortion-related documentation.
Where in Texas can a woman get an abortion?
Cities with one or more abortion providers include Austin, Dallas, Fort Worth, El Paso, Houston, McAllen, Waco and San Antonio. Check www.needabortion.org has a complete list of abortion providers in Texas.
What are the options for an abortion procedure?
A person's doctor to undergo an abortion, either by giving a pill or by performing a procedure at the doctor's office. Both methods of abortion are successful and risk-free. Her decision is influenced by several things, including her preferences, the stage of her pregnancy, and the alternatives available at her abortion provider. It is a good idea for her to consult with her doctor about which alternative is ideal for her.
Can a girl get an abortion in Texas if she is under 18 years of age?
Yes, if the patient is under the age of 18, Texas normally requires parental or guardian approval to abort the child. She does not require the approval of her parents or legal guardian if she is legally independent.
Is abortion safe?
Yes, abortion is a frequent and extremely safe operation. At current rates, around one in every four Americans of reproductive age has had an abortion by the age of 45. Abortions are performed in more than 99.975 percent of cases without serious problems. This suggests that abortion is roughly as risky as a colonoscopy.
Is it true that Texas has some of the most restrictive abortion laws in the U.S?
Yes, Texas abortion laws are among the most restrictive abortion laws in the U.S. The law bans abortions before a woman knows she is pregnant, and it will be difficult to challenge in court. Abortion has been substantially reduced in Texas. Women have fewer alternatives in Texas, which has one of the harshest abortion laws in the U.S. country.
How much does an abortion cost?
The cost of an abortion varies based on various things, including the person's pregnancy stage well as the abortion provider and the procedure she chooses. A medication abortion costs between $300 and $800 in the first trimester, while a surgical abortion costs between $300 and $1500. In general, hospitals charge more. If a pregnant woman wants to get an abortion but cannot afford one, there are several clinics and non-profits that will assist her in paying for it.
References
This article has been published by Oishika Banerji.
---
LawSikho has created a telegram group for exchanging legal knowledge, referrals and various opportunities. You can click on this link and join:
https://t.me/joinchat/J_0YrBa4IBSHdpuTfQO_sA
Follow us on Instagram and subscribe to our YouTube channel for more amazing legal content.